MAXQDA is a world-leading software for qualitative and mixed methods data analysis.
Analyze all kinds of data – from texts to images and audio/video files, websites, tweets, focus group discussions, survey responses, and much more. MAXQDA is at once powerful and easy-to-use, innovative and user-friendly, as well as the only leading QDA software that is 100% identical on Windows and Mac.
A new semester is starting, and we want you to be well prepared for your next research project.
With MAXQDA - now with smart AI integration - you can tackle your research with ease. AI Assist supports your work by automatically analyzing and summarizing elements of your research project.


Check out our blog post on "How to write a Thesis with MAXQDA in 6 Steps"


Collect and Import your Data
Explore Thesis Data
Develop Research Questions
Analyze Your Thesis Material
Gathering Insights for Your Thesis
Concluding how to Write a Thesis with MAXQDA
The new MAXQDA Feature "AI Assist" makes your research process faster and more efficient than ever before. Click here for an overview of all AI Assist features.


Webinar:
"Use the power of AI: MAXQDA's AI Assist"
This webinar
is designed to learn more about AI Assist powered by GPT-3.5 by MAXQDA. It simplifies content summarization for codes and documents. Discover the basics as summarizing code content or generating subcode ideas. This session will provide an overview of current capabilities and explore the potential and limitations of AI in qualitative research.
Recorded Webinar:
"How to write your thesis with MAXQDA"
This recorded webinar
explores how MAXQDA supports thesis writing. Discover 6 steps for using the software in qualitative research: data collection, import, exploration, analysis, question development, and insight gathering/reporting.
The latest MAXQDA update introduces AI Assist, your new intelligent built-in assistant - powered by Open AI. AI Assist is available as a free beta - Available for subscription users and students.
Introducing MAXQDA AI ASSIST (BETA)
Revolutionize your Qualitative and Mixed Methods Data Analysis with our latest MAXQDA update! Meet AI Assist, the intelligent built-in assistant powered by OpenAI.
Making research faster and more efficient than ever before.
•

AI Assist automatically summarizes coded segments of one topic.
•

AI Assist can summarize multiple text segments that were coded with the same code to help you explain common themes across your coding.
•

Customize your summary by adjusting its length, language, and format. Afterward you're free to modify the summaries just like any other text.
•

Your data is not used for AI learning.
ORGANIZE
Everything in one place
MAXQDA works with a vast range of data formats. Text documents, Excel tables, PDFs, images, website data, audio or video recordings, SPSS files, bibliographic records, focus group discussions –even YouTube comments and Twitter tweets– you can analyze it all!
TRANSCRIBE AND ANALYZE
Get the most out of your data
Built-in tools for professional transcriptions of audio and video recordings. Of course, you can also import transcripts you've created in a separate program and link your transcripts to the original media file. Or code and analyze your media file as it is – even without transcribing it before.
NOTE AND SUMMARIZE
Get an overview
Write notes while you work and attach them anywhere – to documents, to codes, or to the data itself. Summarize the most important data points or paraphrase them to develop a coding system. With the Memo Manager, Summary Grids and Summary Tables you'll never lose track of your progress!
VISUALIZE
Understand how things connect
Visualize the progression of an interview, compare documents, or use concept maps to visualize connections. Identify patterns and relationships, present, and further explore your data.
PUBLISH
Share your research with the world
Easily generate and customize a report with MAXQDA's Smart Publisher and export to many formats. Quickly collect outputs and conclusions on different topics at all stages with Questions, Themes & Theories.
MAXQDA Feature Comparison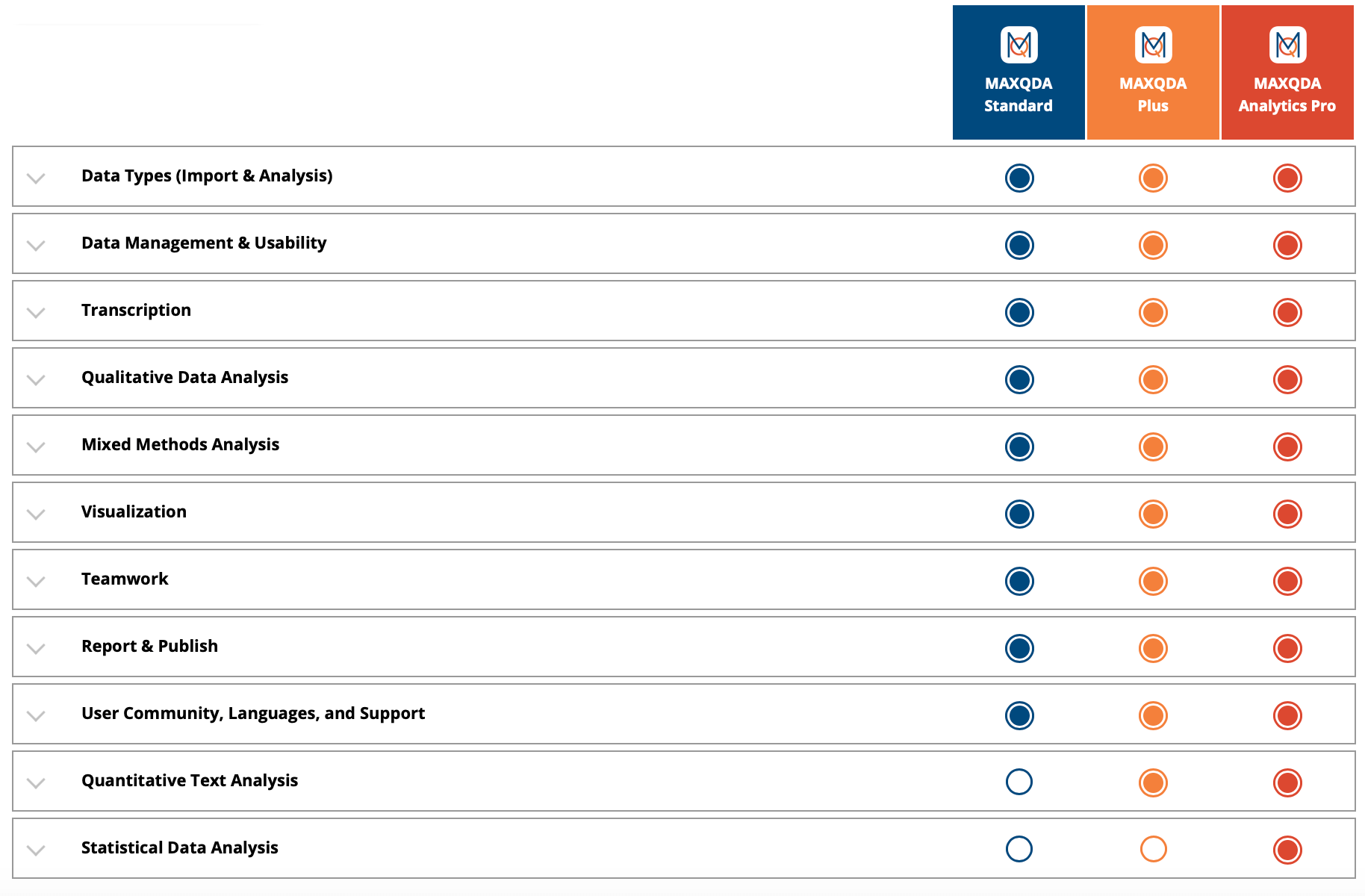 License Options
Identical functionality, different styles of installation. For Windows and Mac.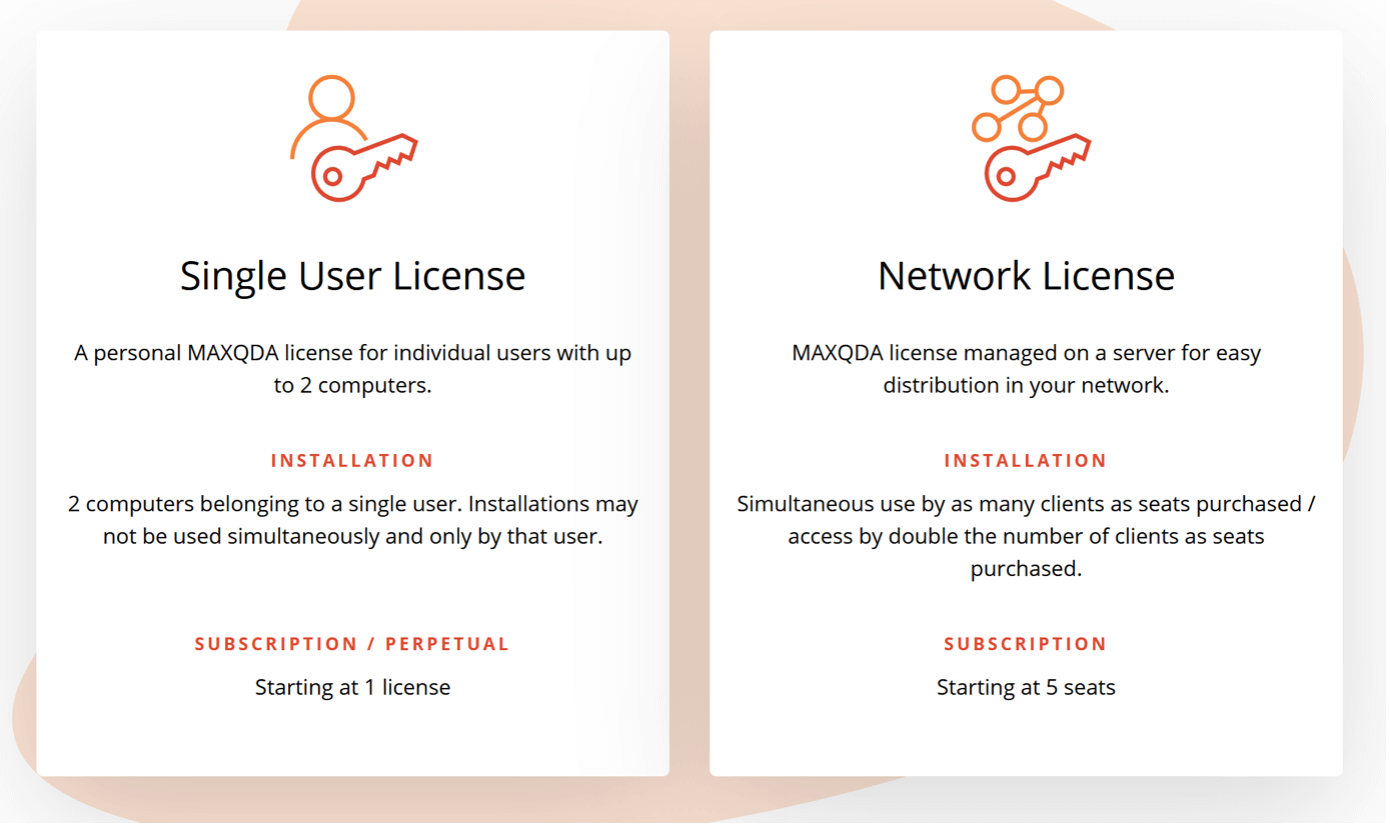 Network License

Set up and managed with our license management tool, Netlic Service

System requirements: Windows 10 or newer, Windows and Mac clients can both be connected to this license
Subscription vs. Perpetual License