For more than two decades, Adobe Systems have redefined business, entertainment, and personal communications by setting new standards for producing and delivering content that engages people anywhere at any time. From rich images in print, video, and film to digital content for a variety of media.
Adobe offers a comprehensive line of software for enterprise and creative professional. Its products enable customers to create, manage, and deliver visually rich, reliable content.


Creative Cloud for Teams is Adobe's volume licensing solution for businesses, studios, design shops, agencies, companies, offices, universities, schools, and other organizations. It includes everything that CC for Individuals does, but gives you substantially more features and capabilities for managing and working with different users. It's meant for groups (such as small to midsize businesses and departments) with multiple seats using the products at the same time.


What's included with Adobe Creative Cloud for Teams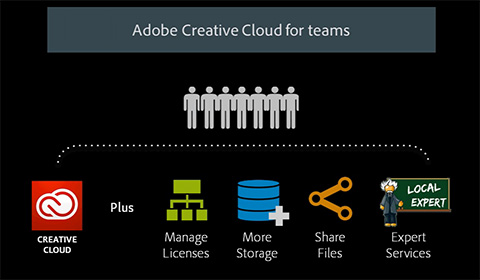 As Adobe partner with the highest level of customer service, we can fulfill all our customers' needs in all sectors, commercial, education, and government. We provide the highest level of knowledge in all Adobe products, programs, and services.